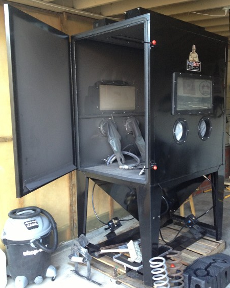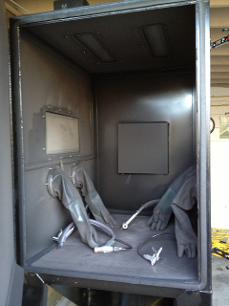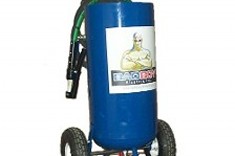 Engine Blocks
Doors
Fenders
Trunk Lids
Frames
Wheels
Rearends
Brake Calipers
Springs
Suspension Parts
Intake Manifolds
Headers
Control Arms
Crossmembers
Body Panels
Hoods, Trunks, Doors
Motorcycle Parts
Gas & Oil Pumps
Vintage Refrigerators
Lawn & Garden Equip
Tractors
Boat & Car Trailers
AND MORE
Bead blasting is the process of removing rust and paint using high pressure air and media. Depending on the type of part and metal being blasted, we have the correct sand, aluminum oxide, glass bead, plastic bead, garnet, soda, walnut shell media to use. Our machine is capable of fitting parts up to 72" X 48" in size. For larger parts like car & motorcycle frames, we use our portable unit from the same manufacturer set up in a 14 foot blasting room.
Badboy Blasters are the best on the market today. Their machines are seen on Discovery Channel series Graveyard Carz and in Jesse James' Austin Speed Shop. In order to provide a clean part to our customers, we wanted the top-of-the line equipment.
LOCAL PICK UP & DROP OFF SERVICE AVAILABLE
We tailor to the DIY car builders, enthusiast, and small repair shops. Our goal is to provide a key element in the restoration process; proper parts cleaning and restoration. Some parts are original and you don't want to change that. We understand those situations, call us and we'll help you restore those original parts.
Our advantage over the others is we don't require your whole car, just the parts you are working on now.
Sometimes projects become held up for one reason or another, we've all been there. We want to help kick start that project back into gear. Call us today with your parts cleaning needs. Ask about professional color matching, primer and clear coats.
PACKAGE & SHOP DISCOUNTS
SERVING CONTRA COSTA COUNTY & SOME SURROUNDING AREAS
Walnut Creek, Lafayette, Orinda, Moraga, Pleasant Hill, Concord, Martinez, Pacheco, Dublin, Livermore, San Ramon, Alamo, Danville